Up to four volunteers each weekday take part in the daily roster of jobs around the garden providing much-needed pairs of hands but more importantly, support for the gardeners who are in recovery.
A knowledge of horticulture can be very useful, but not absolutely necessary. All of our volunteers play a vital role creating the welcoming, inclusive environment of the gardens, bringing an easy, empathetic manner.
Our weekday volunteers commit to a full day each week, which helps bring continuity and familiarity for service users. Building trusting, professional relationships is an extremely important part of the role.
We do not currently have any spaces for this role. If you are interested in hearing about vacancies, please contact us and share your details.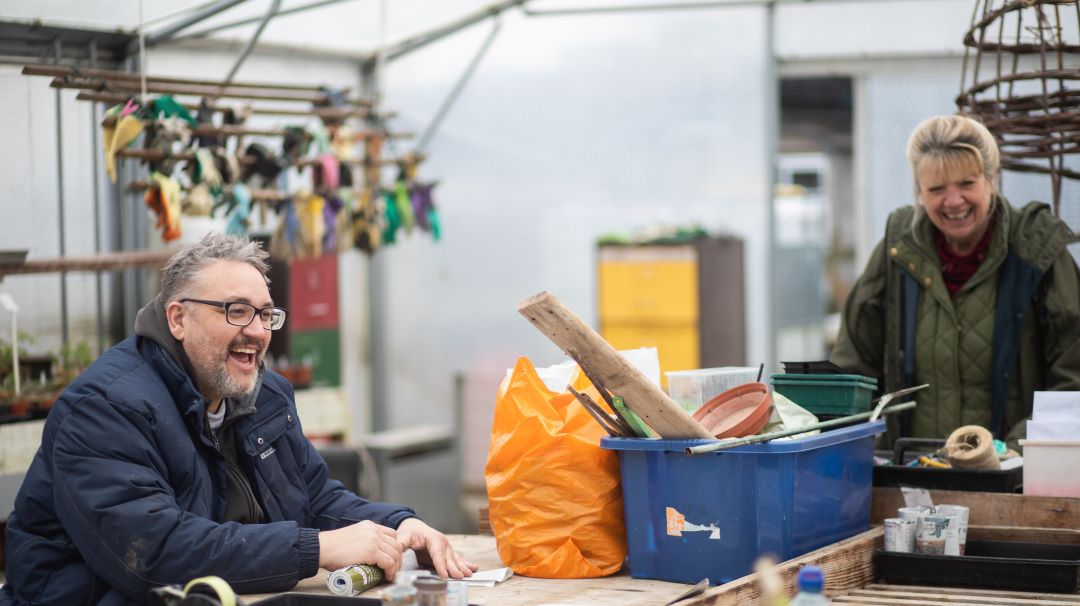 By volunteering
You are part of an amazing team who give their time to make Bridewell work
helping people to access support

raising awareness of mental health

creating a supportive, inclusive community
Volunteers FAQ's
Please get in touch if your question about volunteering isn't answered here
I work fulltime, can I still volunteer with Bridewell?
We have a variety of volunteering roles including supporting Open Days, helping to run Bridewell's social media, and volunteer driving. Take a look at what's available and what could work with the time you'd like to offer.
I don't have any gardening experience, would I be able to volunteer?
We have a range of volunteering opportunities, most of which don't require any gardening experience. In our Garden Team the most important skills are having empathy and an ability to work alongside people as they are. Read other volunteers' experiences to find out more.
Do I need mental health experience to volunteer?
No. You don't need to have had a background working in mental health but if you do have this or an understanding of mental illness yourself or from your family and friends this can help. Being non-judgemental and empathetic are the most important skills for most of Bridewell's volunteering roles.
What's the time commitment needed for volunteers?
It depends on the volunteering role. Event volunteers will support us during a weekend event anytime between 10am and 4pm. Volunteer drivers make a regular commitment supporting in the morning and afternoon one day a week. Garden volunteers are on site one day a week from 9am to 4pm.
What training do you provide for volunteers?
That depends on the role. Event volunteers are given a full briefing on the day of the event. Volunteer drivers undertake a Minibus driving assessment. We offer Mental Health First Aid training for our garden volunteers as well as regular supervision to identify any other training needs.